Billing & Payments
Last updated April 15, 2023
Octoparse Purchase and Subscription Terms
Duration
Octoparse Premium is an ongoing subscription with a recurring subscription fee which is charged automatically at the frequency you choose at purchase (monthly, quarterly, or yearly) until the subscription is canceled. The annual subscription is 16% cheaper than the monthly one, and the default subscription in Octoparse is set to the annual payment.
You can cancel your subscription or buy as many new subscriptions as you like by going to your User Center on our website at any time.
---
Payment of Your Subscription
The billing of your subscription plan is made on secured web pages. All payments and bills are made in US dollars no matter which country you live in.
The billing of your subscription plan is made immediately. Once your payment has been accepted, your credit card/PayPal account will automatically be charged the amount of your selected subscription immediately from the beginning of your subscription period, and then at every renewed period of subscription.
Each subscription period started will be due and will not be reimbursed. You must cancel your subscription at least 24 hours before it renews each month/quarter/year in order to avoid billing the next month's/quarter's/year's subscription fees to your credit card/PayPal account.
If you need any assistance, please contact us at support@octoparse.com.
---
Free Trial
Octoparse offers 14-day free standard or professional trials to freemium users. At the end of your trial period, your trial will automatically roll into an ongoing subscription at $89 or $249 per month. If you want to prevent this, you must cancel it at least 24 hours before the trial ends. You can continue to use the benefits until the last day of the trial period even if you cancel before that. If you do not cancel the subscription before the trial ends, the first month's fee is not refundable.
You need a credit card or PayPal account registered to your Octoparse account to sign up for and access a free trial offer. Each person is eligible for only one free trial unless otherwise communicated. Certain other feature limitations may also apply to free trials to prevent fraud and misuse of content.
---
Termination & Cancellation
You may cancel your subscription at any time but shall remain liable and be immediately charged for your use of the Services up to the date of cancellation or through the term of the license contract. Un-canceled accounts will NOT receive a refund for lack of use. It's your responsibility to cancel your account at least 24 hours before the billing date if you do not want to be charged automatically. Canceling will stop any recurring payments. This means that you will not be charged any subscription fees after your cancellation date.
You will be able to use our paid advanced features until your current subscription period ends. (e.g. If you're on a monthly/quarterly/yearly subscription and you cancel halfway through this period, you will retain access for the duration of that period for which you've already paid.) And your paid account will be downgraded to the free version when your current subscription comes to an end. No refunds will be given for the remaining subscription at the time of cancellation. Octoparse may at any time terminate your use of the Services or cancel any subscription(s) or your use of any subscription or license for cause, which includes the issuance of chargeback for amounts rightfully owed by an account holder. Except as set forth above or unless Octoparse has previously canceled or terminated your use of the Services (in which case subsequent notice by Octoparse shall not be required), Octoparse will notify you via email of any such termination or cancellation, which shall be effective immediately. Upon cancellation of any subscription or termination or expiration of this Agreement for any reason, (i) you shall remain liable for any amount due for subscriptions already delivered through the date such cancellation or termination takes effect, and (ii) the "Prohibited Uses" and each section of these Terms thereafter shall survive expiration or termination.
How to Cancel Your Subscription
Go to your User Center on our website.
Under "Plans and payment", select Plan & Subscription found on the left side of the page.
Select Cancel Subscription, and follow the on-screen instructions.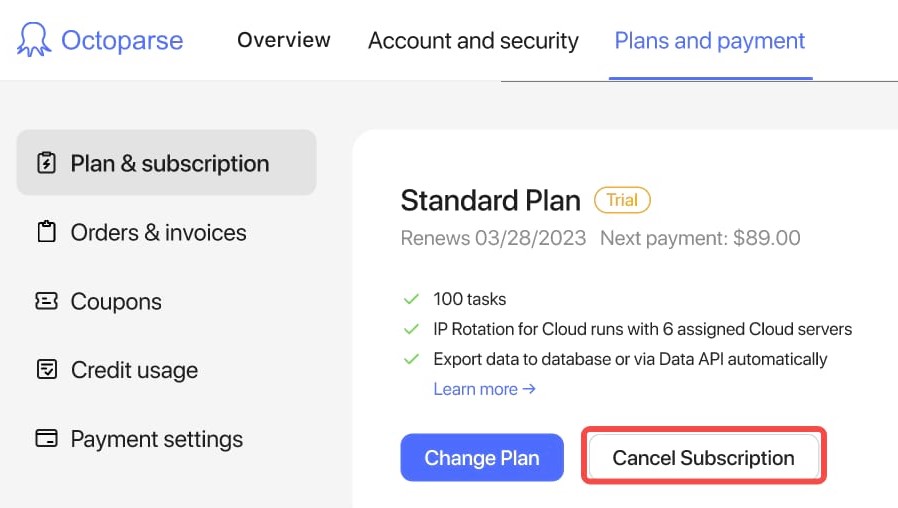 ---
Refund Policy
It is your responsibility to familiarize yourself with this refund policy. By placing an order for any of our products, you indicate that you have read this refund policy and that you agree with and fully accept the terms of this refund policy.
If you do not agree with or fully accept the terms of this refund policy, we ask that you do not place an order with us.
5-day refund policy for all purchases (except after a trial period)
If for any reason you are not satisfied with Octoparse paid versions and would like to cancel your subscription plan, we offer a full refund within 5 days of your purchase, or at the beginning of the next billing cycle, you can request a refund by contacting our support team via support@octoparse.com. If you do not tell us within that time, we won't give any refund.
When requesting a refund, our support team will review your request and contact you shortly via email for some verification information to process your refund. We would really appreciate it if you would take the time to tell us your reasons for canceling and what we could do to make Octoparse better. Should you have any feedback or suggestions, please send them to support@octoparse.com
No refund after the trial period
The first month's fee after a 14-day free trial is not refundable. The products available for purchase on our website are downloadable, functional, and try-before-you-buy. Please use the trial period to make sure that the software meets your needs before purchasing a license. All of our software is functional during the trial period. So if you purchase one of our products after the free trial, no refunds will be given. We have this policy since it would be impossible for you to return your registered version of our software.
No refund for add-on credit
After you purchase subscriptions, you can purchase add-on credit to cover the usage of add-on services. Add-on credit has no value outside Octoparse and can only be used to purchase templates, proxies, or CAPTCHA-solving quotas. Add-on credit cannot be used on subscription payments. Unless required by applicable law, your account credit is non-refundable and non-transferable to another person or another account. Credit added to your account is delivered immediately and will be spent if certain additional app features are enabled in Octoparse. Please note that these additional app features require an active subscription or a premium free trial. Octoparse may give out free credits for testing at the start of each billing cycle or at the beginning of a free trial. You are responsible for verifying that the services you wish to purchase are functioning as expected before adding credits to your account. Octoparse account credit will not expire.
Note:
All purchases of data extraction services (data service or crawler service) in Octoparse are final and non-refundable.
The fact that you don't connect to Octoparse, your operating systems do not support Octoparse, or the websites you want to scrape have anti-scraping or anti-bot measures during your subscription period does not entitle you to request a refund or reimbursement of the value of your subscription as the service will be available for your use until your subscription period ends.
When a refund is issued, you are still responsible for the transaction fee (approx. 4%) incurred for payments made through PayPal or by credit card. For example, the actual amount refundable for a $249 Professional plan is $239 (rounded number). The same refund policy applies to both SaaS and DaaS.
When a refund for any annual plan is issued, the pricing model will be switched to the monthly subscription. The refund amount shall be the difference between the prepaid annual price deducted at the rate of the monthly subscription or part thereof.
---
Additional Terms
We reserve the right to adjust subscription pricing, and to change, suspend, or discontinue any subscriptions, including any free trial and any features, at any time in our sole discretion. Any price changes or other material changes to the subscriptions or the features will be communicated to you. Your continued use of the subscriptions following notification of any modifications or changes constitutes acceptance of those changes. We may also impose limits on certain features or restrict your access to parts or all of your subscriptions without notice or liability.