Web Scraping - How to Store Cookies in Octoparse
Web Scraping - How to Store Cookies in Octoparse
Sunday, March 5, 2017 11:11 PM
For the latest tutorials, visit our new self-service portal. Sharpen your skills and explore new ways to use Octoparse.
Cookies are designed to record a user's browsing activities such as log-in cookies. Octoparse also has a feature to allow you to save and use cookies to deal with certain scenarios.
Here are some scenarios in which you may need to use cookies:
1. Temporarily save your log-in credentials (Most frequently used)
2. Save language settings if a certain website has multi-lingual settings
3. Save button clicking information for pop-ups
How to save and use cookies in Octoparse?
Taking saving log-in cookies as an example, let's first complete the log-in settings in Octoparse (Reference: Scrape data behind a login). Here are the following steps after login:
1. Double-click the "Go to Web Page" step in the workflow or click the icon of "Action Settings"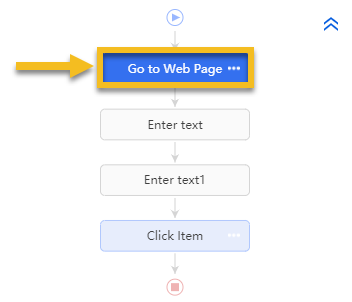 2. Click "Use cookie" and then press the button "Use cookie from the current page". "Not set" will be changed to "Saved" after you click the button "Use cookie from the current page". Press "OK" to save it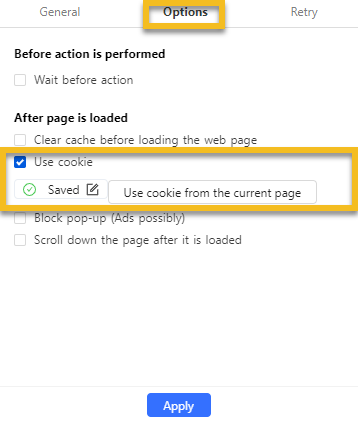 How to update and delete cookies?
Cookies can be expired quite soon, so you may need to update your cookies saved in Octoparse.
Here are the steps to delete and update cookies.
1. Click the icon 
 next to  "Saved" to open the cookie box. Select all the text in the box and then delete them. Press "Confirm" to save it.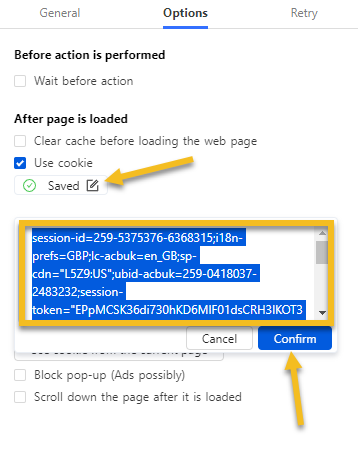 2. Press "Use cookie from the current page" again to take the current cookie. Click "OK" to save.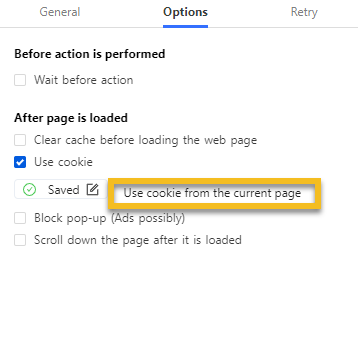 If you don't need cookies setting, you can just uncheck "Use cookie".
Tip!
If you want to clear cookies every time when the website is opened, you can check "Clear cache before loading the web page".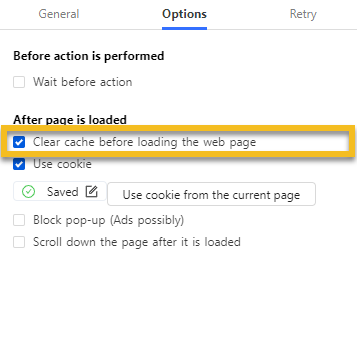 If you have any questions, you can submit a ticket here for assistance. We'll get back to you soon.
Happy Data Hunting!
Author: The Octoparse Team
For more information about Octoparse, please click here.
Sign up today.