Scraping Articles from Reuters.com
Scraping Articles from Reuters.com
Thursday, January 5, 2017 9:22 PM
For the latest tutorials, visit our new self-service portal. Sharpen your skills and explore new ways to use Octoparse.
In this tutorial, I will show you how to quickly scrape a bunch of news articles from Reuters.com.
Our data fields include the article title, body text, published date/time, and author name.
Use the sample URL below to follow through:
https://www.reuters.com/news/archive/marketsNews
Step 1. Create a Go to Web Page - to go to the target webpage
Enter the sample URL in the search bar on the home screen and click Start
Step 2. Auto-detect the webpage - to create the workflow
Click auto-detect webpage from the Tips panel and wait for it to complete

Choose the desirable auto-detect results (1/3)

Check the Paginate to scrape more pages option to see if it works for our webpage
Uncheck Add a page scroll
Click Create Workflow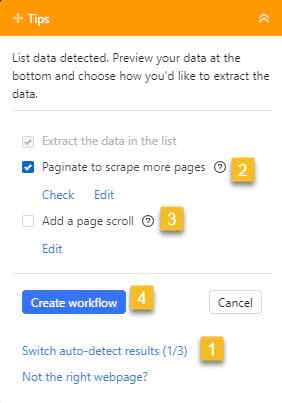 Click Click on links to scrape the linked page(s)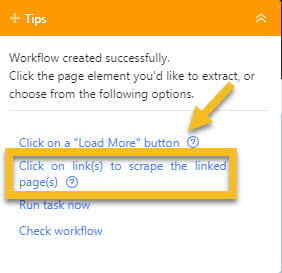 Select the right data field for the linked page URL from the dropdown menu and Click check to see if it works

Click Confirm to save the settings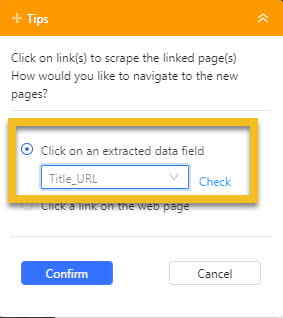 Select the first paragraph of the article and choose Select All from the Tips panel

Click Extract text of the selected element
Step 3. Adjust workflow settings
Rename the data fields for the first Extract Data action

Click the three dots for more settings on the paragraph data field

Click Customize XPath and Change XPath for the paragraph data field to //p[contains(@data-testid,"paragraph")]

Click

Merge multiple rows of data into one
Step 4. Save the task and run it to get data
Click Save on the upper right to save your task
Click Run next to it and wait for a Run Task window to pop up
Select Run on your device to run the task on your local device
Happy Data Hunting!
Author: The Octoparse Team
For more information about Octoparse, please click here.
Sign up today.