Scheduled Export: Export Data Extracted into Your SqlServer Automatically
Scheduled Export: Export Data Extracted into Your SqlServer Automatically
Thursday, July 21, 2016 2:06 AM
For the latest tutorials, visit our new self-service portal. Sharpen your skills and explore new ways to use Octoparse.
In a prior article, we taught you how to export the data extracted into SqlServer manually. Actually, we can go one step further and streamline the workflow using Octoparse's "Auto-export to database" feature.
To export manually, you can go to the next step now. For the automatic export, you have to set up the schedule settings.
Enter the name of the schedule into the text box next to "

Scheduled Export

"
Select at what time interval you would like to export the data to the database, i.e. the export is scheduled to run 

every 1 hour

 in the screenshot.
Click "Next" 

After set-up is completed, press the "

Completed

" button to exit.
Tip!
Once a data field is selected as a primary key, subsequent data records with the same primary key will overwrite the existing ones in the database.
Save Settings:
Once the configuration is completed, it can be saved for later use. You can name the settings first and then press the "Save" button to save it.  

Next time, if you want to use your previous database export settings, you can just choose a saved setting to save time.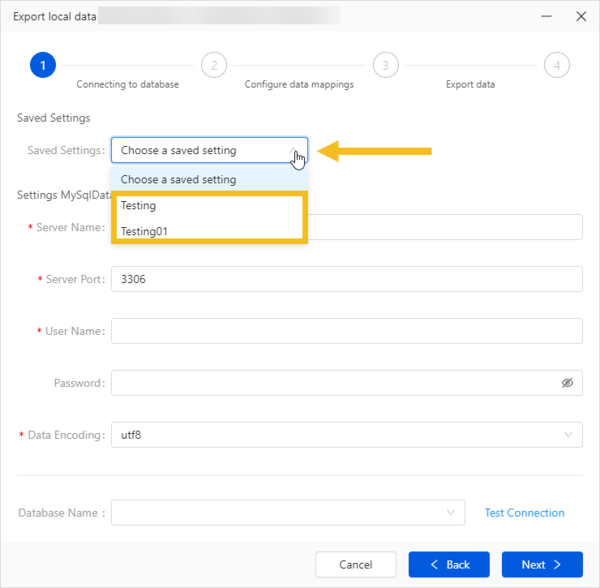 2. Introduction to database auto-export tool
After you set up the database settings, the Auto-export tool will pop up simultaneously. It will show you all the configuration details about auto-export to the database. You need to click "Start" to start the export. Octoparse will do the export at the interval you have set up after starting.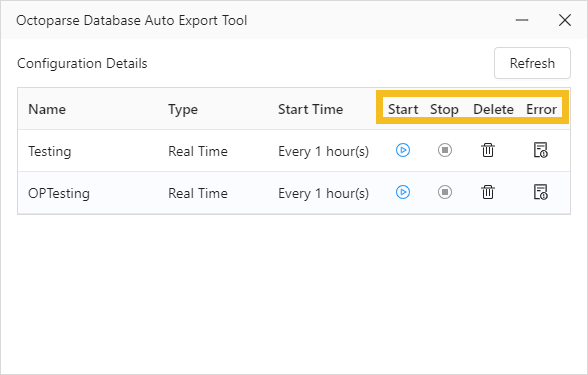 From the pop-up window, you can start/stop/delete the scheduled auto export to the database. You can also check the error report.
Please note that you have to keep the database auto-export tool open to keep exporting data. That means you cannot turn off your computer during the export. Otherwise, your data export will be stopped.
Tip!
The auto-export tool is also accessible from the "Toolbox" from the side navigation.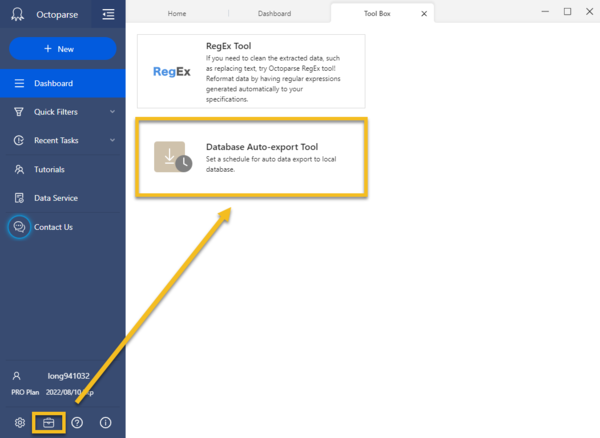 Should you encounter any problems with auto-exporting to a database, feel free to leave your message.