Extract URLs of Webpages
Extract URLs of Webpages
Wednesday, July 20, 2016 6:05 AM
For the latest tutorials, visit our new self-service portal. Sharpen your skills and explore new ways to use Octoparse.
Sometimes we may want to extract page-level data like webpage URLs while scraping elements from certain webpages. This is actually very easy to achieve with Octoparse.
Follow the next few steps to add a data field for the Page URL
1. Click on the "Extract Data" action
2. Go to the "Data Preview" section
3. Click on 
 to add a custom data field
4. Hover on "Page-level data" and select "Page URL"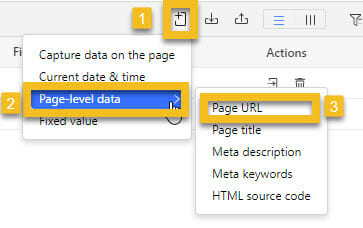 Problem solved! You can also extract any other page-level data you like.
Submit a ticket to our support team if you have more questions.
Happy Data Hunting!
Author: The Octoparse Team
For more information about Octoparse, please click here.
Sign up today.