Extract Phone Numbers from Websites
Extract Phone Numbers
Thursday, September 29, 2016 7:42 AM
For the latest tutorials, visit our new self-service portal. Sharpen your skills and explore new ways to use Octoparse.
It's no secret that our world is constantly changing and one means of communication will be replaced by the next. With the rapid development of technology, many things can be done online. This might give you the impression that good old telephony is dying. But is it?
Smartphones are still an essential part of our lives. Many customers love the personal communication a phone call can offer. Therefore, calling remains the quickest way to sell your products, especially when they are expensive and complicated.
In this tutorial, I will take yellowpages.com as an example to show you how to extract phone numbers online.
Use the sample URL to follow through:
https://www.yellowpages.com/los-angeles-ca/auto-body-shops
Step 1. Create a Go to Webpage - to open the target URL
Enter the sample URL in the search bar on the home screen and click Start
Step 2. Auto-detect the webpage - to create the workflow
Click auto-detect webpage from the Tips panel and wait for it to complete

Choose the desirable auto-detect results (1/5)

Check the Paginate to scrape more pages option to see if it works for our webpage
Delete the data fields we don't want from the Data Preview section
Click Create Workflow and check the Data Preview section to see if we have the data we want.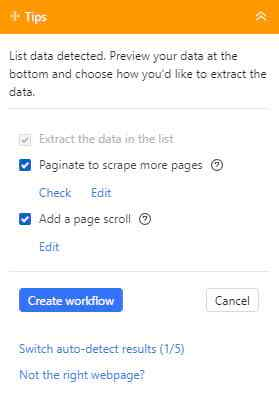 Step 3. Save the task and run it to get data
Click Save on the upper right to save your task
Click Run next to it and wait for a Run Task window to pop up
Select Run on your device to run the task on your local device
Here is the sample output from a local run. Happy data hunting!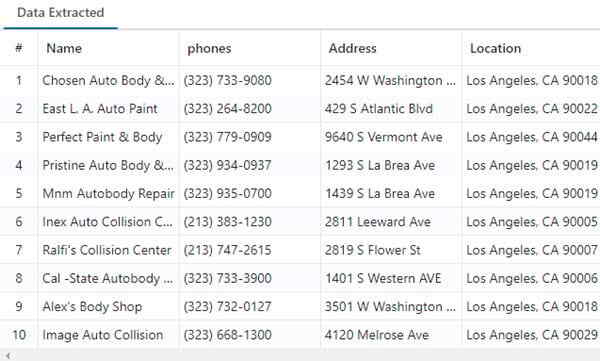 Author: The Octoparse Team
For more information about Octoparse, please click here.
Sign up today!
30 Free Web Scraping Software